Andrea House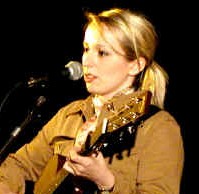 I have a therapist. Now that's a sentence I thought I'd never use. But there it is.
My wife encouraged me to see her. And now I too, am drawn into her circle.
What Andrea does:
She listens to the motion within you through the tips of her fingers and tells the strength of your ch'i by your colour.
While you lie surrounded by full, accepting colours, she works healing with her needles and her hands.
She gives you essence of oranges and white peonies. And other things that come all the way from China. And tea if you like.
She speaks wisdom to you. The wisdom of listening and living within your body. The wisdom of sleep cycles and daily rhythm.
She recalls for you your more genuine desires and gently helps you dismiss the phantom duties that exhaust you.
And then when she's done all this she sends you home with songs.
And you drink red wine by a gas fireplace and listen to her voice–powerfully delicate.
And from your eastern window you regard the mystery and mercy of gathering night.
Tags: Andrea House, Acupuncture Works, Spirituality
Support Andrea's trip to Nicaragua where, in her special way, she'll be caring for kids in need. (Fundraiser, Thursday, Nov. 23rd, 7:30PM @ Acquired Tastes)