An article in Christianity Today's 50th Anniversary with the promising title "The Church's Great Malfunctions," written by Miroslav Volf and colleagues from the Yale Center for Faith and Culture, is a refreshing self-critique of modern Christianity. It's good, and as I said, refreshing, but it doesn't go far enough.
The essay begins by conceding that too often, "Christian faith neither mends the world nor helps human beings to thrive. On the contrary, it seems to shatter things into pieces, to choke what's new and beautiful before it has chance to take root, to trample underfoot what's good and true."
This was refreshing because the 152 page special edition of CT consulted 114 leaders from 11 ministry spheres about the future of Christian evangelical priorities, and only Volf was this candid. Among all the concern about getting back to scriptural basics, connecting to culture while being counter-cultural, and the repeat warnings about the gay agenda, only Volf's article, (with the exception of one or two others leaders who drew attention to poverty and AIDS) asks an apt question. That is, why is it that Christians who embrace a peaceable faith have often been so violent?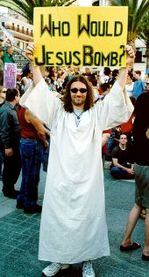 His answer laid out under three rubrics; a thin faith, an irrelevant faith and an unwillingness to walk the narrow path, was however disappointing. It provided nothing new other than an appeal to renew Christian character. It never reached into the underlying cause that this blog, when given opportunity, will go banging on about. And that is the sacrificial reading of scripture and substitutional atonement theory.
Please, Yale Center for Faith and Culture, you say it takes hard intellectual and spiritual work to learn to understand and live faith authentically. Then don't ignore the implications of Girardian thought, the most exciting theological thinking since Augustine and the most fruitful anthropological thinking since the arrival of anthropology.
All quiet on the Eastern front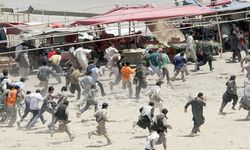 Any question on violence in reference to Christianity and the gospel must take Girard into account. Is it because entrenched statements of faith rooted in medieval theology are too layered over by time and tradition to be overcome?
As long as we ignore our sacrificial ways, already exposed by Christ, as long as we continue to unconsciously justify them through our uncritical acceptance of a flawed theory of the atonement we remain imprisoned by them. And so we go on acceding to so-called redemptive violence and wonder why we fit a violent culture.
But by excavating our error, by undergoing the all together non-violent way of God which is the peace of Christ, we may then find that symptoms like thin faith etc., lose their grip.
Technorati Tags: Rene Girard, Miroslav Volf, Christianity Today, Yale Center for Faith and Culture, Atonement, Christianity, Peace, Violence