Tonight we attended a fundraiser for the Nina Haggerty Centre for the Arts.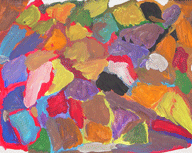 The Center gives people with developmental disabilities a space to explore and "experience real joy and fulfillment through creative self-expression."
It was a festive affair chocked full of celebrities and great food and wine, the later of which is always more impressive in my mind. The central fundraising event was a cake auction and raffle. (My friend Jeff won the largest cake, a Rexxall Place replica.)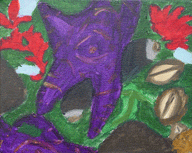 These were no ordinary cakes. They were works of art in their own right and created by some of Edmonton's top chefs.
But the best part of the event, besides some of the works of art that were on display, was the short documentary about the artists and their art. We were introduced to delightful people and there art came from a place of delight.
There was no prescription "craft-art" here, something in my own narrowness I expected. No, there was only art that came from the heart and soul of the artist. Art that was full of bold colour and life. Liberating art. Art that forgave my constricted expectations.
Technorati Tags: Art, Nina Haggerty Centre for the Arts, Beauty