I love it that among all the voices contrary, I can still hear a young Folk singer sing, "Freedom is seldom found by beating someone to ground." (Amos Lee – Supply and Demand is now playing in Starbucks)
I think I would want to strengthen that thought and say that freedom is never found by beating someone into the ground. No, in order to escape rivalry and violence and enter freedom it is necessary to love your neighbour, your brother, your sister completely.
Because non-violence is not true in theory. It is only true in practise. And in practise it is true culturally, collectively, and individually.
The amazing thing is that a loving non-violence is possible. Possible because of a wild mix of divine grace and reoriented (mimetic) desire; which is also a grace. And we have a cloud of witnesses that attest to this. From Stephen in Acts to the student in Tiananmen Square.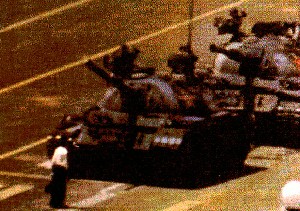 My friend Mary told me the other day that in the origins of the word miracle, is the notion of possibility. So make the decision to love, and the universe may conspire to make it happen.
Just because our society appears bound to determinism and fatalism, just because a sad sort of pragmatism has beguiled us into believing loving ourselves and others into nonviolence is impossible is no reason we should believe it.
According to the Captains and Commanders of our day non-violence doesn't "work," but don't believe them. Love them, don't believe them.
Technorati Tags: Amos Lee, Starbucks, Tiananmen Square, Christianity, Peace, Violence