Today, upon seeing a lady bug inch its way up a wooden railing I recalled this journal entry from exactly three years ago.
You wouldn't think that Willie Nelson could cheer up a soul. But I feel like traveling on, on that is, that train they call the City of New Orleans. I feel like traveling a long way away. I want to feel the rhythm of steel wheels on steel track clacking beneath me. I want to feel it for miles of hours, and hours of miles. I want to travel anywhere, it doesn't matter. Anywhere takes me away. Feeling this tells me I'm still alive.
And of course James Taylor's music takes me, transports me, away. It opens up the possibility of leaping into the still blue breeze, climbing as high as two translucent wings can take me and drifting, catching up and down drafts without worrying the destination.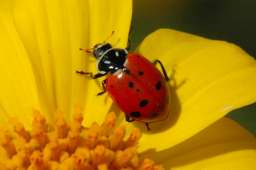 This is what the lady bug did. I watched from my lawn chair beside the barbecue. The spotted beetle landed for just a moment and before it had reasoned or made up its mind it flew straight up. Catching the wind about a story off the ground it sailed more than flew, weaving and swerving into a cloud covered sky, to a destination yet unknown. Considering its size, the distance it traveled was great. It was a leap I admired.
The French call the lady beetles les betes du bon Dieu or creatures of the good God and les vaches de la Vierge or cows of the Virgin. The Germans call them Marienkafer or Mary's beetles. Lady beetles are primarily predators of aphids and other soft body insects. This makes them a friend of most gardeners. But when their life supplies thin out they don't hesitate to fly and try another destination. And most any direction will do. Who knows if there are aphids here or there? The thing to do is to leap and to find out, not to stay and subsist on meager pickings, and die slowly.
Technorati Tags: Lady bugs, Beauty, Spirituality