It's Friday and I feel a distinct lack of gravitas. (Friday's should be about buoyancy. In fact, I think buoyancy should be a spiritual discipline.) So here's some ephemera that would normally drown under the weight of a weekday.
—
Notice: Someone in our building who can't punctuate is selling Oiler tickets for tomorrow night's game. A scribbled note pasted to the entrance says he/she has "a pair". Doesn't say whether or not that's $600 each, or for the pair. So if you have an inheritance you can dip into… Of course after the shellacking the Oilers took the other night you could have bought up all those ubiquitous little car flags from the guy's in the blue Ford Econoline's, set 'em all to half-mast, and made a killing, thereby raising the 600-1200 dollars to go to Saturday's game.
—
Starbucks Log: There's an elderly lady sitting across from me in the purple plush chair. She's reading a biology text and smiling. And taking notes. There are so many explanations.
Sometimes I wonder if the note-takers' and scribblers sitting in Starbucks, coffee at their side, are all making observations about each other.
—
And now my staff are coming through to pick up their morning quava. "Hello, Janelle." She comes over to talk. She used to work here before Hope Mission scooped her. And now I'm waving and smiling through the glass entrance (I've seen people walk into it, it's been kept that clean) at Ting and Robyn. I wonder what they think I really do here? I wonder what I think they really do?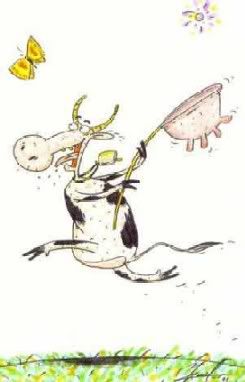 Yesterday we all went to the Oriental Veggie House by the Herb Jay. Robyn and Jodie are vegetarians, the rest of us, carnivores. If you go, check the inside of the menu cover. A few lines of prose will give you the reason to become, if you aren't already, a vegan. It's all about the slaughtering of innocent beasts. I must say, while eating my curry lamb made out of pressed mushrooms, I felt mildly morally superior.
So last night at supper, over pork-chops, my daughter, a science/biology major, told me about an article she read that described how some people in white coats have "grown" a fillet-o-fish, in vitro. They're not stopping there. Lab-Steak is next. They believe that they'll be able to produce a beautiful rib-eye that will eclipse the best Outback steak you've ever had. On top of that, it will be guarantied mad-cow free.
There goes the OVH menu's flyleaf. Maybe now we can all just get along. Have a wonderful Friday!